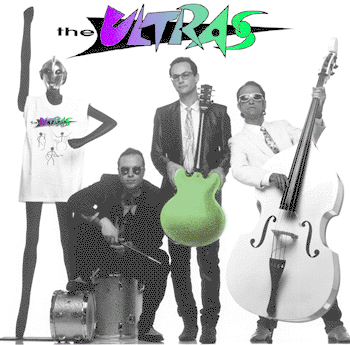 THE ULTRAS are a mostly instrumental rock 'n roll trio from San Francisco formed in 1988 by guitarist Eric "Sludge" Lenchner. they call their sound "Surf-Pop-Sludge".


In their early days, the Ultras played the "new lounge" supper clubs in San Francisco utilizing their diverse musical palette of Surf, Rockabilly, Salsa, Pop, Blues, Country, Jazz, and Psychedelic styles. This was a low volume sound with the instrumentation of electric guitar, acoustic "string" bass, and brushed drums.


In the 1990's as the Ultras began to play more and more original music (at a more electrified volume), they moved from the lounges to the original music showcase clubs of San Francisco and Northern California. the Ultras toured the West Coast several times and shared the bill numerous times with surf music legend Dick Dale.


1993 saw the release of the the Ultras CD, SURF-POP-SLUDGE. Produced by Scott Mathews, the man responsible for the Dick Dale "comeback" CD's on Hightone, "Surf-Pop-Sludge" was a college radio hit, going Top Ten on numerous stations throughout the U.S.


In 1995 the Ultras stopped played live shows due to guitarist Lenchner's hearing damage. They have continued to record, and their latest projects are "Rocket Jockey" (CD ROM video game), "Attack of the New Killer Surf Guitars" (compilation featuring Ultras' track "THE ULTRA FACTOR"), and "Just Write" (feature film starring Sherilyn Fenn - soundtrack features "STEEL TWIST" by The Ultras.


Who are The Ultras?

Eric Lenchner "SLUDGE" - electric guitar; vocals

Hailing from Long Island, New York, Sludge's first band in junior high school in 1966 was called The Ultras. In San Francisco, Sludge first made his mark as part of the punk-new wave outfit The Readymades (1977-1979) and later as part of nouvelle-lounge swingers The Dinos in the latter 1980's.
30-plus years of playing in bands has left Sludge with hearing damage. He suffers from hyperacusis (over sensitivity to sound), tinnitus (ringing in the ears), and hearing loss. He presently is a full-time guitar teacher, running the Professor Sludge Guitar Academy in San Francisco.
The Sludge Academy is affiliated with H.E.A.R. (Hearing Education and Awareness for Rockers) www.hearnet.net
Trey Sabatelli "TREY KING KOOL" - drums; vocals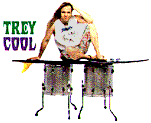 Originally from New York City, Trey King Kool has played with some of the top groups in rock (Jefferson Starship, The Tubes, Vince Welnick and Missing Man Formation) since relocating to the Bay Area. Kool's amazing fluidity on the drum kit, stylistic versatility and dynamic showmanship have earned him a growing reputation and following among musicians and fans alike
Bing Nathan "STRING BING" - acoustic and electric bass
Originally from Illinois, String Bing has been a fixture on the Bay Area music scene since performing at the Fillmore Auditorium in 1968. He now performs regularly with swing - jazz act Lavay Smith and the Red-Hot Skillet Lickers (a 1997 Bammie Award winner).

What the... ??? INFO-ULTRA-MATION (415) 239-5390